I recently did an image search on google (I can't remember the search string) and found some interesting and twisted work of the Norwegian painter "Odd Nerdum"
from www.spamula.net:
Nerdrum is renowned for his emulation of old-master techniques and textures: there are in his paintings many echoes of Rembrandt and Caravaggio, in particular. Beyond that, his devotion to the depiction of flesh brings the work of Lucian Freud to mind; whereas certain of his pictures have, to my eye, unexpected likenesses to canvases by Dalí, or Ferdinand Hodler.

A great many of Nerdrum's paintings of the '80s and '90s share a common setting: a bleak, post-apocalyptic locale where crudely-clothed or naked figures adopt contorted poses, or perform acts of violence, or enact bizarre rituals: like hallucinated variations on themes suggested by the Mad Max movies.
Detail from 'Liberation' by Odd Nerdrum, 1974.

Nerdrum's staunch use of traditional techniques, and of figurative subjects, has drawn its share of criticism and derision. Part of his response has been to claim that he is not an artist, but rather a 'kitsch painter', further claiming that 'the kitsch painter is committed to the eternal: love, death and the sunrise' and 'because modernism has conquered art, kitsch is the saviour of talent and devotion.'


Visit some Odd Nerdrums sites
here
, and
here
.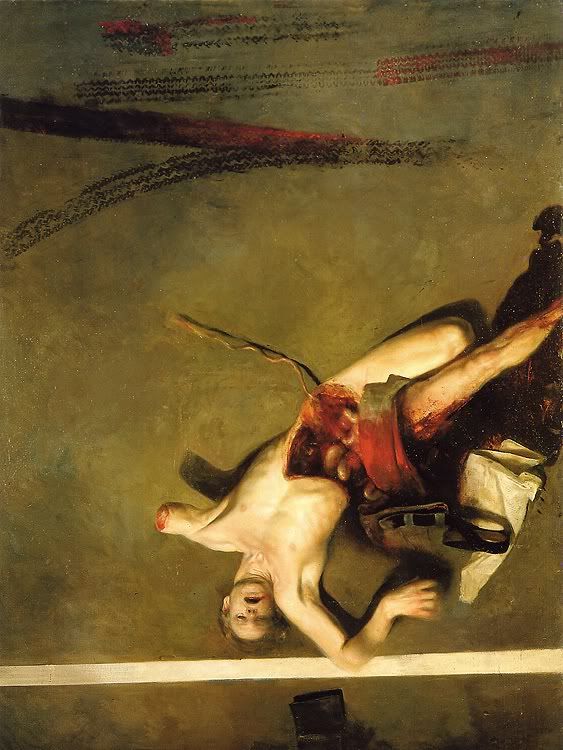 Incidentally, the image above reminds of the
giant plush rabbit in the Alps
(complete with spilled guts)